National DEFENSE Magazine
As a primary publication of the National Defense Industrial Association, National DEFENSE Magazine provides insightful, expert analysis and news features on military trends, Defense Department programs, defense industry, science and technology, and homeland security. As NDIA celebrates its centennial year, National DEFENSE is publishing articles and producing podcasts that highlight the Association's long-standing history with regards to the promotion of the security and defense of the United States of America.
View the current issue of National DEFENSE Magazine here.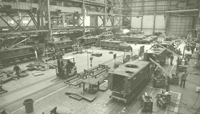 Association Building on a Strong Foundation
In 1918, at the 11th hour of the 11th day of the 11th month, the guns fell silent and an armistice went into effect in Central Europe, bringing an end to World War I combat operations.
NDIA at 100: Building on a Strong Foundation
I write this article as we mark the 100th anniversary of World War I's Armistice while NDIA begins preparations to celebrate 100 years of advocating for American warfighters.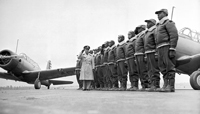 Talent, Training, and the Red Tails
As we considered how to recognize and honor the accomplishments of African Americans during Black History Month, we decided to focus on a most successful World War II unit: the Tuskegee Airmen.
Cybersecurity: Front and Center for Industry
"Deliver Uncompromised," the "Fourth Pillar of Acquisition" or "Securing the DoD Supply Chain"—no matter the turn of phrase used for protecting the defense industrial base from cyber threats, this issue stands front and center for the Pentagon and its support network.
Dominance in Date Processing Key to Future of Warfare
Inexpensive surveillance satellites developed by the commercial sector have provided the Defense Department with a glut of data, but more work still needs to be done to effectively process it, said the vice chairman of the Joint Chiefs of Staff June 18.
Manufacturing and Cybersecurity: Know the Essentials
It's no secret that the security climate on the internet is becoming more dangerous by the day. This is especially true for business professionals in the manufacturing space, where cyber attacks are only becoming more frequent and more costly with each passing year.
Army to Make Big Changes as it Engages in a 'War for Talent'
The Army is undertaking a major effort to redesign its personnel system which hasn't changed in decades, said the secretary of the service June 13.
Time for a Bold New Space Architecture
It appears the nation will soon have a "unified" space command.
Army Charts New Path for Air and Missile Defense
To counter new and evolving weapons on the battlefield, the Army has created a new roadmap aimed at beefing up its air-and-missile defense force.
Army 'On Track' to Field Hypersonic Missiles by 2023
The Army is on track to field an experimental unit armed with hypersonic missiles by fiscal year 2023, according to the service official in charge of developing the technology.
Superconductors to be Installed on Navy Vessels
Two of the Navy's amphibious transport docks are scheduled to receive degaussing systems with superconductors.
SOCOM to Develop New AI Strategy
Special Operations Command plans to craft a new artificial intelligence and machine learning strategy to inform its future spending, according to the organization's chief data officer.
Psychological Ops Forces Seeking Transformative Technologies
Special Operations Command's military information support operations—better known as psychological operations—component will soon be receiving its own technology development program, a SOCOM official said May 21.
Right AI Strategy a Must for Military Superiority
As the United States faces threats that are more complex and rapidly evolving than ever, the Defense Department's technological arsenal must be ready to face any challenge.
Army, Coast Guard Researchers' Greater Collaboration
After entering into a memorandum of understanding, Coast Guard and Army research laboratories have been given the green light to collaborate on projects and share research assets and data.
The Legacy of the Strategic Defense Initiative
In a nationally televised address to the nation, President Ronald Reagan in 1983 kicked off efforts that would lead to serious work on space-based interceptor technologies.
Something Digital This Way Comes
In case it wasn't obvious, the industrial age is over and the digital era has begun.
Army Looking at New Tactics to Recruit Soldiers
Training and Doctrine Command's first priority is boosting the Army's end strength, according to its commander.
New Wave of Night Vision Tech to Boost Soldier Lethality
When Billy Fabian was serving as an infantry officer in Iraq a little more than a decade ago, the U.S. Army had a decided advantage when it came to pursuing the fight at night. It was not, however, without flaws.
For more National DEFENSE Magazine articles, please click here.