National Defense Magazine
As a primary publication of the National Defense Industrial Association, National Defense Magazine provides insightful, expert analysis and news features on military trends, Defense Department programs, defense industry, science and technology, and homeland security. As NDIA celebrates its centennial year, National Defense is publishing articles and producing podcasts that highlight the Association's long-standing history with regards to the promotion of the security and defense of the United States of America.
View the current issue of National Defense Magazine here.
Army Abruptly Terminates Squad Advanced Marksmanship Trainer Contract
The Army has ended a high-profile program that was using high-fidelity simulators to train soldiers in small arms skills.
The Heavy Cost of Ignoring Biosurveillance
It was Aug. 28, 2012 in a Washington, D.C., hotel near Union Station where the National Defense Industrial Association held its first and only Biosurveillance Conference.
AFSOC Uses 'Dagger' Teams as its Pointy Tip of the Spear
In its recently released "Strategic Guidance" document, Air Force Special Operations Command leadership articulates the principle that "AFSOC's human capital is our competitive advantage."
Other Transactions – Best Practices to Enable Success
Imagine this. The Defense Department had an urgent need for armored vehicles to protect warfighters from new threats during a time of war.
Army Setting Stage for New Unmanned Platforms
The Army is about to kick off a multi-year series of experiments as it moves toward establishing a program of record for robotic combat vehicles that could roam future battlefields.
New Virtualization Capability to Support Space Force
An Atlanta-based company has established a new virtualization ecosystem that can support and test technologies for the Space Force and other commercial service providers.
Army Tries to 'Find, Fix, Finish' Startups
For the Army, the gleaming glass and steel skyscraper a few blocks from the Texas state capitol has to be considered a "target-rich environment."
Army Trying to Mitigate Disruptions for Top Modernization Programs
The Army is putting mitigation strategies in place to keep its modernization efforts from going off the rails as it grapples with the COVID-19 pandemic, acquisition officials said April 3.
Political Battles Brewing Over Nuclear Program
The Trump administration's proposal to begin work on a new nuclear warhead program to modernize the nation's aging stockpile is expected to be hotly contested.
Industry May Find Relief for Coronavirus Delays
The global spread of the COVID-19 virus may put many federal contractors at risk of missing contractual deadlines. In a growing number of cases, supply chains may become cut off, work spaces may be closed or employees may need to stay home — all of which could impact a contractor's ability to perform in a timely manner.
Industry Fielding More Powerful, Flexible Radars
The defense industry is working alongside the Pentagon and allied nations to bring online new radar systems that can be used on land and at sea.
Pentagon to Kick Off New Prototyping Projects with Allies
The Defense Department will soon announce new projects for the recently launched Allied Prototyping Initiative, the Pentagon's top weapons buyer said March 10.
Bigger Cuts to Come in Marine Corps Budget
Future budget requests beginning in fiscal year 2022 will have major force structure changes for the Marine Corps, said the service's commandant March 10.
Bone 'Paint' May Aid Wounded Warriors
A Boston-based company is working with bone regenerative protein to help servicemembers recover from traumatic injuries.
Boeing Unveils Future Attack Reconnaissance Helo Concept
Boeing is offering a new, clean-sheet design helicopter for the Army's future attack reconnaissance aircraft, or FARA, program, the company announced March 3.
Navy Receives Low Marks from Industry
Many members of the defense industry find that the Navy is tough to do business with, according to a recent survey.
Women Need Pathfinders to Serve as Role Models
An internal Hewlett Packard study found men will apply for a job or promotion if they meet approximately 60 percent of the qualifications, but women apply only if they meet 100 percent.
U.S., Allies Bolstering Electronic Warfare Systems
The global military airborne electronic warfare market offers major opportunities for equipment manufacturers as countries respond to growing threats, according to a recent report from Frost & Sullivan.
Cost of Post-9/11 Wars Expected to Top $6 Trillion
The U.S. government has already appropriated trillions of dollars for post-9/11 counterterrorism efforts, and the price tag is expected to increase by an additional $1 trillion or more in the coming decades, according to a recent study.
Army Searches for Common Ground on IP Rights
"IP is one of my favorite topics. Do you have another hour?" Bruce Jette, assistant secretary of the Army for acquisition, logistics and technology, asked the moderator during a recent talk.
EU Should Remain Open to U.S. Defense Industry
The European Union soon may reach an inflection point in how it views its responsibilities to provide regional and global security.
Defense Department Forging Path for 5G Adoption
The Pentagon is launching a new initiative that will shape its long-term plans for integrating 5G networks into U.S. military operations. The emerging technology is viewed as a potential gamechanger as the United States squares off against China in great power competition.
Australian Company Debuts High-Tech Body Armor for Training
An Australian technology company's high-tech body armor suit that it hopes can help add realism to training military and law enforcement made its American debut this week.
Lockheed Martin to Expand F-35 Virtual, Networked Training
After a delay that created hiccups for the Pentagon's largest acquisition program, Lockheed Martin has now delivered F-35 software for Naval Air Systems Command's joint simulation environment, a company executive said Dec. 3.
Another CR, Another Blow to National Security
What's so bad about an extended, or worse, a year-long continuing resolution? While some see saved dollars due to spending at prior-year levels or merely delays that accelerated contracting and financing later in the year can mitigate, the insidious effects of a long-term CR mean fewer warriors with lower readiness, slowed fielding of capabilities, and a defense industrial base yet again burdened by delays and uncertainties.
Army Spending Big on Training, Modeling, Simulation
The market for Army training, modeling and simulation capabilities has seen significant growth in recent years, and major opportunities lie ahead for contractors, analysts say.
New Justice Dept. 'Strike Force' on the Prowl
On Nov. 5, the Department of Justice announced the launch of the Procurement Collusion Strike Force, or PCSF. Its creation marks a significant development in the government procurement enforcement landscape.
Marine Corps Training Shifts to Great Power Competition
It was high noon in a mock city the size of downtown San Diego located in the California desert. Automatic rifle fire could be heard in the distance and the sound of a drone — heard but not seen — buzzed in the blue skies above.
Pentagon Eyeing More Advance Virtual, Augmented Reality Headwear
Technology improvements driven by the commercial sector are expected to yield virtual and augmented reality goggles that solve many of the problems associated with the headsets being used by the U.S. military today, experts say.
New Exoskeleton Tech Center Partnering with Army
An international standards developer has selected two organizations to lead a new center focused on advancing exoskeleton capabilities.
U.S. Considering Expanding Arctic Presence as Tensions Rise
The United States is considering expanding its presence in the Arctic as it faces increased competition from Russia and China, according to the head of North American Aerospace Defense Command and U.S. Northern Command.
Army Has High Hopes for One World Terrain Training Tool
The Army is creating a high-resolution virtual world realistic enough to help prepare troops for battles across the globe.
International Presence Increasing at U.S. Space Command
The United States Space Command is working to strengthen its partnerships with allied nations to increase collaboration for military space operations, a top officer said Nov. 15.
The Association's Next 100 Years
Hawk Carlisle: As I reflect on my first 30 months as the National Defense Industrial Association's president and CEO, I'm proud of our team's accomplishments but, more importantly, excited about our future.
Q&A with Pulitzer Prize Winning Journalist Bob Woodward
Washington Post Associate Editor and Pulitzer Prize winning journalist Bob Woodward was the keynote speaker at the National Defense Industrial Association's 100th Anniversary dinner Oct. 30.
NDIA Policy Points: The Pentagon's Climate Problem
The defense acquisition community faces a climate problem. A political climate of suspicion is impeding the Pentagon's efforts to take advantage of private industry expertise to deliver important capabilities to America's warfighters.
National Security Commission on AI Releases Interim Report
A much-anticipated interim report from the National Security Commission on Artificial Intelligence — which was tasked by Congress to research ways to advance the development of AI for national security and defense purposes — was released Nov. 4.
Booz Allen Launches New 'App Store' for AI
Across the government and military, agencies are working to harness artificial intelligence for a variety of applications. A new product created by Booz Allen Hamilton aims to streamline the adoption AI platforms through an easy to use "app store."
Army Assessment Showcases Tech for Multi-Domain Ops
Many of today's Army modernization efforts are built on a foundation first established in the waning days of the Future Combat Systems program. Along the way, the Army Evaluation Task Force began conducting evaluations at Fort Bliss, Texas, and White Sands Missile Range, New Mexico, with those activities eventually evolving into semi-annual Network Integration Evaluations.
Options Abound for New Intermediate-Range Missiles
The Pentagon's plan to develop a new class of missiles could provide important capabilities, but they will come with a hefty price tag, analysts say.
Officials Face Challenge of Adding Autoloader to Long-Range Cannon
Adding an autoloader to the Army's extended-range cannon will be no easy task, according to service officials.
Marine Corps Aims to Ease the Burden for Amphibious Warships
As the Navy prepares for a potential change in its composition, the Marine Corps is looking for alternative platforms that will relieve some responsibilities from amphibious assault ships.
New Virginia-Class Submarines to Hold More Missiles
BAE Systems is providing the Navy with missile payload tubes that would help new Virginia-class submarines carry more Tomahawks or next-generation guided cruise missiles.
Army Researchers Working to Boost Soldier Performance
A push to prepare warfighters for multi-domain battle and conventional warfare has sparked a renewed interest in Army modernization.
Sikorsky's Black Hawk on Track for Autonomous Flight Next Year
After months of testing, Sikorsky is on course for full autonomous flight of its S-70 Black Hawk optionally piloted vehicle next year, according to company officials.
Space Commander Warns Chinese Lasers Could Blind U.S. Satellites
China is developing new directed energy weapons that could degrade American satellites during a future crisis, the leader of the newly formed U.S. Space Command said Sept 27.
Pentagon Contemplating Role of AI in Missile Defense
Artificial intelligence is expected to play a critical role in helping the United States counter emerging missile threats, according to experts.
Proposed F-16 Sale to Taiwan Sparks Controversy
A potential big-ticket sale of military aircraft to Taiwan has heightened tensions with China.
Association Building on a Strong Foundation
In 1918, at the 11th hour of the 11th day of the 11th month, the guns fell silent and an armistice went into effect in Central Europe, bringing an end to World War I combat operations.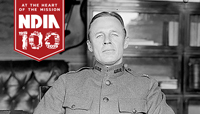 NDIA at 100: Building on a Strong Foundation
I write this article as we mark the 100th anniversary of World War I's Armistice while NDIA begins preparations to celebrate 100 years of advocating for American warfighters.
What to Expect from Sixth-Gen Aircraft
The United States and several European nations are pursuing next-generation fighters. While many details are closely held or are still being fleshed out, a picture is starting to emerge of the capabilities they will possess.
US-UK-Canada-Australia Industrial Base Initiative Yet to Gather Steam
A U.S. government initiative to create a trusted international alliance of defense industries is in its early stages hasn't truly gotten off the ground yet, representatives of the four participating nations said Sept. 9 at a quadrilateral conference.
As Criticism Mounts, Boeing Looks to Keep Pace With KC-46 Deliveries
Following years of delays and high-profile snafus, the Boeing Co. is predicting the KC-46 Pegasus aerial refueling tanker program will meet its key performance goals.
Fear of the 'L' Word Affecting Bottom Lines
Many in government sales miss opportunities to strengthen their customer base by ignoring the impact of effective lobbying.
Army Updates Night Vision Goggles
The latest iteration of the Army's new night vision goggles could be in the hands of soldiers and Marines as soon as mid-September, according to a program officer.
Insider Threats - More Than Just an IT Problem
When once-reliable employees turn against their company, severe damage can result. The 1999 cult comedy classic Office Space provides a humorous example. Peter Gibbons, a software programmer fed up with being mistreated, uploads a virus to steal money from the company. However, Peter's plan goes awry, and he steals even more than he intended.
Budgets Require Industry-Government Cooperation
We should all celebrate the recent passage and signing of the 2019 Bipartisan Budget Act that ended the federal budget impasse and did away with the destructive spending caps imposed by the 2011 Budget Control Act.
Aerojet Rocketdyne Opens New Facility
Aerojet Rocketdyne has opened a new advanced manufacturing center to produce rocket propulsion products for missile defense programs.
Russia, China Alliance on Navigation Satellites Threatens GPS
Russia and China have been increasingly moving toward greater synergies between their respective satellite navigation systems since at least 2015.
Realizing the Potential of AI on the Edge
In the late 1970s, the outlook for the internal combustion engine was bleak. Faced with complying to both aggressive fuel economy standards and stringent emission regulations, the American driver seemed destined for a future of small, underpowered cars.
Army Developing Robotic Trauma Care System
The Army is working on an autonomous robotic trauma care system that can treat wounded soldiers on the battlefield.
Pentagon Underinvesting in Artificial Intelligence
In recent years, defense officials have been banging the drum about the importance of adopting artificial intelligence to assist with everything from operating autonomous platforms to intelligence analysis to logistics and back office functions. But the Pentagon is not pumping enough money into this technology, according to one expert.
Academia Key to Maintaining U.S. Lead in AI
Academic institutions will be critical to sustaining the United States' overmatch in artificial intelligence technology, experts say.
Changes in Treatment of Confidential Info
In June, the Supreme Court significantly altered how government agencies will treat confidential commercial information protected from disclosure by Exemption 4 of the Freedom of Information Act (FOIA) — an issue that recurs repeatedly with respect to information submitted by contractors to government agencies.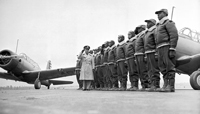 Talent, Training, and the Red Tails
As we considered how to recognize and honor the accomplishments of African Americans during Black History Month, we decided to focus on a most successful World War II unit: the Tuskegee Airmen.
Cybersecurity: Front and Center for Industry
"Deliver Uncompromised," the "Fourth Pillar of Acquisition" or "Securing the DoD Supply Chain"—no matter the turn of phrase used for protecting the defense industrial base from cyber threats, this issue stands front and center for the Pentagon and its support network.
Dominance in Date Processing Key to Future of Warfare
Inexpensive surveillance satellites developed by the commercial sector have provided the Defense Department with a glut of data, but more work still needs to be done to effectively process it, said the vice chairman of the Joint Chiefs of Staff June 18.
Manufacturing and Cybersecurity: Know the Essentials
It's no secret that the security climate on the internet is becoming more dangerous by the day. This is especially true for business professionals in the manufacturing space, where cyber attacks are only becoming more frequent and more costly with each passing year.
Army to Make Big Changes as it Engages in a 'War for Talent'
The Army is undertaking a major effort to redesign its personnel system which hasn't changed in decades, said the secretary of the service June 13.
Time for a Bold New Space Architecture
It appears the nation will soon have a "unified" space command.
Army Charts New Path for Air and Missile Defense
To counter new and evolving weapons on the battlefield, the Army has created a new roadmap aimed at beefing up its air-and-missile defense force.
Army 'On Track' to Field Hypersonic Missiles by 2023
The Army is on track to field an experimental unit armed with hypersonic missiles by fiscal year 2023, according to the service official in charge of developing the technology.
Superconductors to be Installed on Navy Vessels
Two of the Navy's amphibious transport docks are scheduled to receive degaussing systems with superconductors.
SOCOM to Develop New AI Strategy
Special Operations Command plans to craft a new artificial intelligence and machine learning strategy to inform its future spending, according to the organization's chief data officer.
Psychological Ops Forces Seeking Transformative Technologies
Special Operations Command's military information support operations—better known as psychological operations—component will soon be receiving its own technology development program, a SOCOM official said May 21.
Right AI Strategy a Must for Military Superiority
As the United States faces threats that are more complex and rapidly evolving than ever, the Defense Department's technological arsenal must be ready to face any challenge.
Army, Coast Guard Researchers' Greater Collaboration
After entering into a memorandum of understanding, Coast Guard and Army research laboratories have been given the green light to collaborate on projects and share research assets and data.
The Legacy of the Strategic Defense Initiative
In a nationally televised address to the nation, President Ronald Reagan in 1983 kicked off efforts that would lead to serious work on space-based interceptor technologies.
Something Digital This Way Comes
In case it wasn't obvious, the industrial age is over and the digital era has begun.
Army Looking at New Tactics to Recruit Soldiers
Training and Doctrine Command's first priority is boosting the Army's end strength, according to its commander.
New Wave of Night Vision Tech to Boost Soldier Lethality
When Billy Fabian was serving as an infantry officer in Iraq a little more than a decade ago, the U.S. Army had a decided advantage when it came to pursuing the fight at night. It was not, however, without flaws.
For more National Defense Magazine articles, please click here.