Advertising Opportunities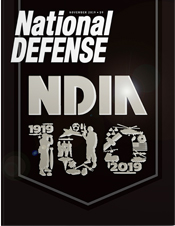 Take advantage of the once-in-a-lifetime opportunity to be a part of the 100th anniversary issue of National Defense in November.
RESERVE YOUR AD SPACE TODAY
Materials due October 8
Issue released in November
Bonus distribution throughout 2020
ADVERTISING OPPORTUNITIES
As we look back on 100 years of NDIA's history, let's also look forward to the next 100 years. Our anniversary issue takes on a futuristic approach, incorporating augmented reality with our forthcoming AR app. By opening the app and pointing their camera lens at certain pages, readers will access dynamic content like videos and 3-D models that bring the issue to life.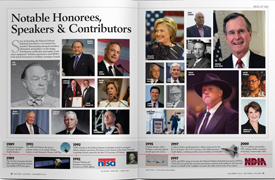 Unlike ever before, this National Defense issue is a collectible keepsake. Not only does it contain more content than any other issue, our 100th anniversary issue features a heavier paper stock, a bound spine, and a cover embossed with silver foil, offering you ad placement with a longer shelf life and greater appeal.
While we continue to be at the heart of the mission, join us at the heart of our magazine and its exciting features:
Retrospective material featuring notable speakers and contributors to NDIA and National Defense, including General Douglas MacArthur, Neil Armstrong, and General Hap Arnold

Augmented reality interaction that engages readers in multiple dimensions

10 pieces written by experts and futurists on technological advancements to come in the next 100 years of warfare

Detailed timeline of NDIA and defense history, highlighting the Association's century-long support of the warfighter

Visual history of National Defense that adds to the aesthetic appeal of this collectible issue


MAJOR BONUS DISTRIBUTION
Further extending the reach of your ad, this commemorative issue will be distributed at NDIA's most prominent events in 2020.

CONTACT US
Kathleen Kenney
Director, Sales
kkenney@NDIA.org
(703) 247-2576
Alex Mitchell
Coordinator, Sales
amitchell@NDIA.org
(703) 247-2568
OTHER OPPORTUNITIES
Interested in partnership opportunities related to NDIA's 100th Anniversary Celebration on October 30? Visit our Partnership Opportunities page here.